Two Very Old Iron Graveslabs Inside the Church
There are two iron tomb slabs on the floor in front of the Chancel Screen in St Swithun's church.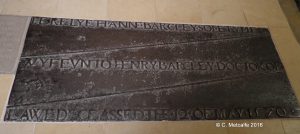 One reads: HERE LYETH ANNE BARCLAY SOME TYME WYFE UNTO HENRY BARCLAY DOCTOR OF LAWE DECEASED THE 12 OF MAY 1570.
A stone plaque nearby explains: This iron slab was found in a garden near this church and was placed here by the care and at the expense of Mr W V K Stenning AD 1881.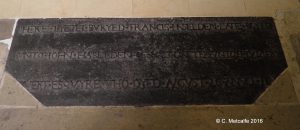 The second iron slab reads:
HERE LYETH BURYED FRANCIS HASELDEN LATE WYFE UNTO JOHN HASELDEN OF HAL AFTER UNTO (or possibly YE DAUGHTER UNTO) HUMFRY COVERT ESQVYRE WHO DYED AUGUST 26 ANNO 1616.
The first is considered to be one of the oldest known surviving iron tomb slabs in the county. The wording is confusing, but it is probably a monument to Anne Barclay, who died on 12 May 1570, and who was the widow of Henry Barclay, a Doctor of Law. I have not found any more information about her. I wonder if there are any Barclay descendants living locally? According to the 1975 Church Guide Book, this slab was in use upside down as a scullery doorstep in the old Vicarage.
The second was apparently in use as a hearthstone in the old Vicarage until 1908, and identified after the fire which destroyed the old Vicarage.
This slab is to Francis (we normally spell the lady's version of the name 'Frances', today), who died on August 26th 1616 and was the widow of John Haselden 'of Hal'. I do not know what is meant by Hal, but wonder if it means Hall, and the name of the Hall has been missed out. She then married 'after', (or was possibly the daughter of) Humfry Covert Esquire.
There was a John Covert MP for East Grinstead in 1586. There is a family vault for the Covert family in St Mary's church, Slaugham, and there are interesting monuments there to several generations of the Covert family from 1503 to 1586.
It is hoped that keeping these slabs inside the church will help to conserve them. They are an interesting echo of days gone by. These women wanted to be remembered and they, or their executors, could afford an iron monument bearing their name, even if it was a bit crudely written by modern standards. The iron industry used to be important in Sussex. There are traces of ancient iron furnaces in Ashdown Forest. Wadhurst church in East Sussex has a number of iron grave markers. Locally produced material was used, instead of stone. The slabs were cast, not wrought, and molten iron was poured into a prepared mould.