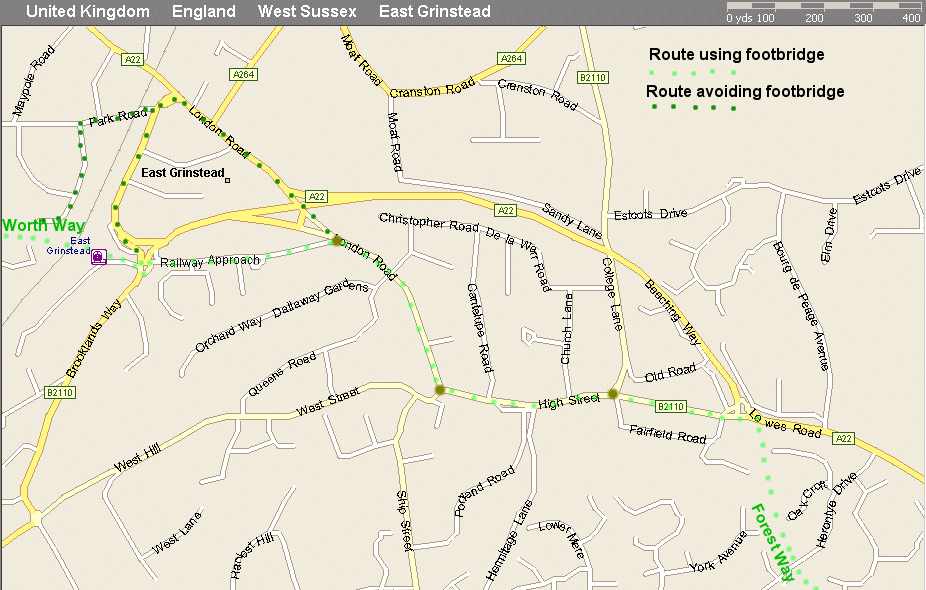 Worth Way to Forest Way
From the end of the Worth Way in the main station carpark go over the footbridge and through the small carpark on station side of the railway to the roundabout.
Take the road opposite, Station Approach, and go up the hill to a mini roundabout at London Road.
Turn right along London Road to a mini roundabout at the top.
Turn left along the High Street past the old buildings.
Go over a mini roundabout and just prior to joining the A22 at a large roundabout cross the road and follow the Forest Way signs down a foot/cycle path.
Forest Way to Worth Way
When you reach the A22 turn left on the cycle path past the roundabout.
Proceed up the Lewes Road and across a mini roundabout then onto the High Street past the old buildings.
At the end of the High street at a mini roundabout turn right down London Road.
Continue down London Road to a mini roundabout.
Turn left down Railway Approach to the roundabout at the end.
Go round the roundabout and into the carpark and up over the footbridge to the main carpark and you will find the Worth Way at the far end.
Avoiding the Footbridge
You can avoid the footbridge but this entails cycling along the A22 and one way system! Traffic crosses from one side of the road with little regard for cyclists! See the map above for the route.
Food!
There are a number of food & drink outlets that you pass however one of our favourites is CJ's a new Bistro type cafe at the eastern end of the High Street which serves a nice selection of hot & cold sandwiches and drinks. Bertram Bookshop, (near the war memorial), situated in an old Tudor house serves tea, coffee & cake.
Sights
See the East Grinstead Town Tourism Web site
The old High Street has a number of Tudor house of note and at the Southern end there is the Imposing Sackville College. This was founded as an Almshouse by Robert Sackville, Earl of Dorset in 1609 and is still used for this purpose.